Benchmark Your Success With That Of Your Competitors
Tracking your own customer satisfaction through online reviews is a huge step towards identifying areas for improvement in your operations, however without anything to benchmark the results against, you only have half of the story.
Competitive Analysis ultimately gives you a competitive edge. Knowing your strengths and weaknesses versus your competitor's strengths and weaknesses enables you to make strategic business and marketing decisions in order to gain more marketshare.
Online Reviews are publicly available and so are a perfect source of competitor data from which to establish comparisons, however with so many reviews being generated daily, this can drain a lot of time and resources without the proper tools.
Using INTUITION's Analytics platform in conjunction with its Content Licensing Partnership with TripAdvisor, and / or INTUITION's Review Monitoring platform, the hard work is done for you.
See below for common uses and advanced features…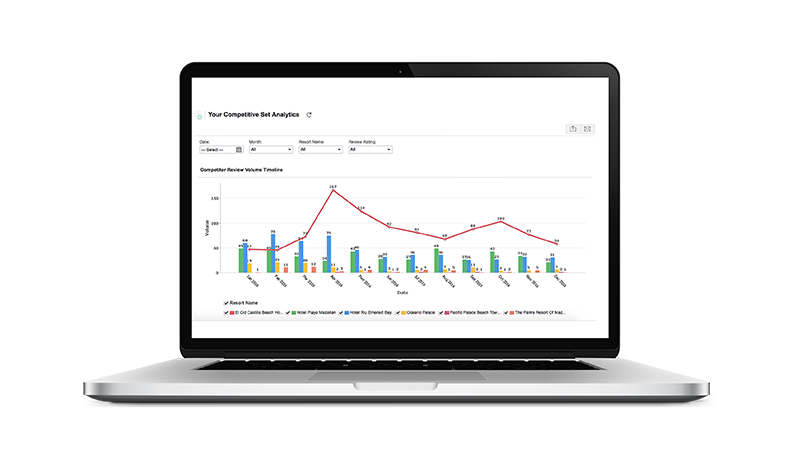 Competitive Analysis
Gain a Competitive Edge that drives business decisions
This service add-on to INTUITION's Core Analytics / Business Intelligence platform is a powerful tool that opens up a wealth of knowledge about your competitors.
Our most popular option for Competitive Analysis is leveraging our Content Licensing Partnership with TripAdvisor. This enables us to purchase all review data on your behalf for any listed property and display it for Reputation Management purposes within our INTUITION Analytics platform.
You will be able to glean information such as, rises and falls in ratings and rankings, and review scores for Cleanliness, Sleep Quality, Value, Service, Rooms and Location. Additionally, you will be able to see the breakdown of types of guest (Family, Couples etc) and Trip Type (Business or Vacation) as well as the volume of reviews received over time and percentage of responses given to those reviews.
Furthermore, you will be able to read all reviews and responses and using our text analysis, you will be able to compare how many complaints your competitors receive relating to Room Quality, Amenities, Staff & Service, Food & Beverage and more.
This detailed information will assist you in prioritizing your own areas for improvement and your choice of marketing messages where you can play to your strengths and their weaknesses. In conjunction with our TripAdvisor Joint Review Collection, this additional insight is invaluable for Reputation Management and improving Customer Satisfaction.
We also offer a more simplified Competitive Analysis option across all major review site platforms via our Review Monitoring platform.
KEY FEATURES
TripAdvisor Competitive Analysis via Content Licensing

Custom-Built & Maintained By INTUITION Team

Utilizes INTUITION's Analytics Platform

All Other Review Sites via API from Review Monitoring Platform

Directly Compare Your Properties vs Your Competitors

Scheduled Reports To Share Across Your Company
Want To Go Further? Check Out Our Brand Monitoring Solution