Improve The Customer Experience On-Site With Two-Way Communication
If only you knew how your hotel or resort guests were feeling while they were still with you, rather than reading about a negative experience on a major review site…
Most guests don't like conflict, and so more often than not, they put up with an unsatisfactory experience rather than hash it out with an already unhelpful front desk. This scenario is not good for the guest or the hotel, and often leads to irreparable damage on online review sites that lose the hotel that customer and future revenue.
But give a guest the ability to complain from a safe distance via their mobile device at any time of the day and you are much more likely to be given the opportunity to resolve the issue and avoid the bad review. Furthermore, using an on-site feedback tool also gives you direct insights into common complaints, but can also provide you with opportunities to increase a guest's on-site spend.
INTUITION offers several variations of On-Site Feedback.
See below for common uses and advanced features…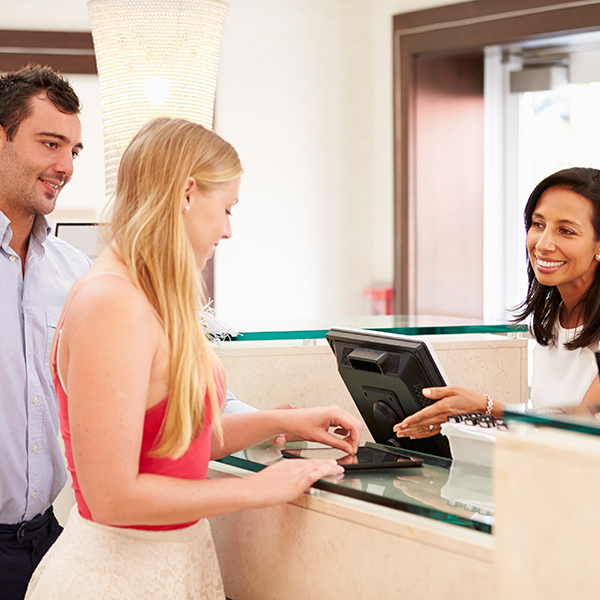 On-Site Feedback
Better to know now than later
Using the same powerful platform as the Post Stay Survey, INTUITION offers a variety of On-Site Feedback options that can either be presented on a tablet device to the guest, or accessible by the guest on their own mobile device.
The primary On-Site Feedback option provides guests with the ability to make a request, ask a question, or make a complaint. Each of the options can then be routed to specific departments to handle, such as Front Desk, Housekeeping, Concierge, Restaurant Reservations and more. For best effect, the complaint option should be routed to the General Manager, who can then either deal with the issue personally, or instruct the appropriate member of staff to deal with it, having already been made aware of the issue rather than it getting lost and unresolved at Front Desk.
Respond to guests quickly via email or Text Message, or via in-room phone.
Analytics will show the number of questions, requests and complaints along with historical trends, which will help you identify steps you can take to better service future guests.
Other feedback options include Sign-ups for Newsletter or On-Site Offers at check-in which helps capture contact data from guests who come through OTA bookings, and individualized On-Site Surveys for Spa, Restaurant or other amenity.
KEY FEATURES
TripAdvisor Competitive Analysis via Content Licensing

Custom-Built & Maintained By INTUITION Team

Utilizes INTUITION's Analytics Platform

All Other Review Sites via API from Review Monitoring Platform

Directly Compare Your Properties vs Your Competitors

Scheduled Reports To Share Across Your Company
Want To Go Further? Check Out Our Brand Monitoring Solution