Customer Engagement Through Latest Survey Technology
It is essential for Hotels & Resorts to capture feedback from their guests, but knowing what tool to use for what kind of customer engagement is the key to attaining actionable data that will highlight areas for improvement, make departments accountable for their role in the customer journey and ultimately increase revenue through better reputation management and customer satisfaction.
INTUITION offers a variety of customer engagement tools to capture feedback from guests. One of those tools is an advanced survey system that is custom built to meet the needs of each hotel, is fully branded and provides superior analytics and reporting.
See below for common uses and advanced features…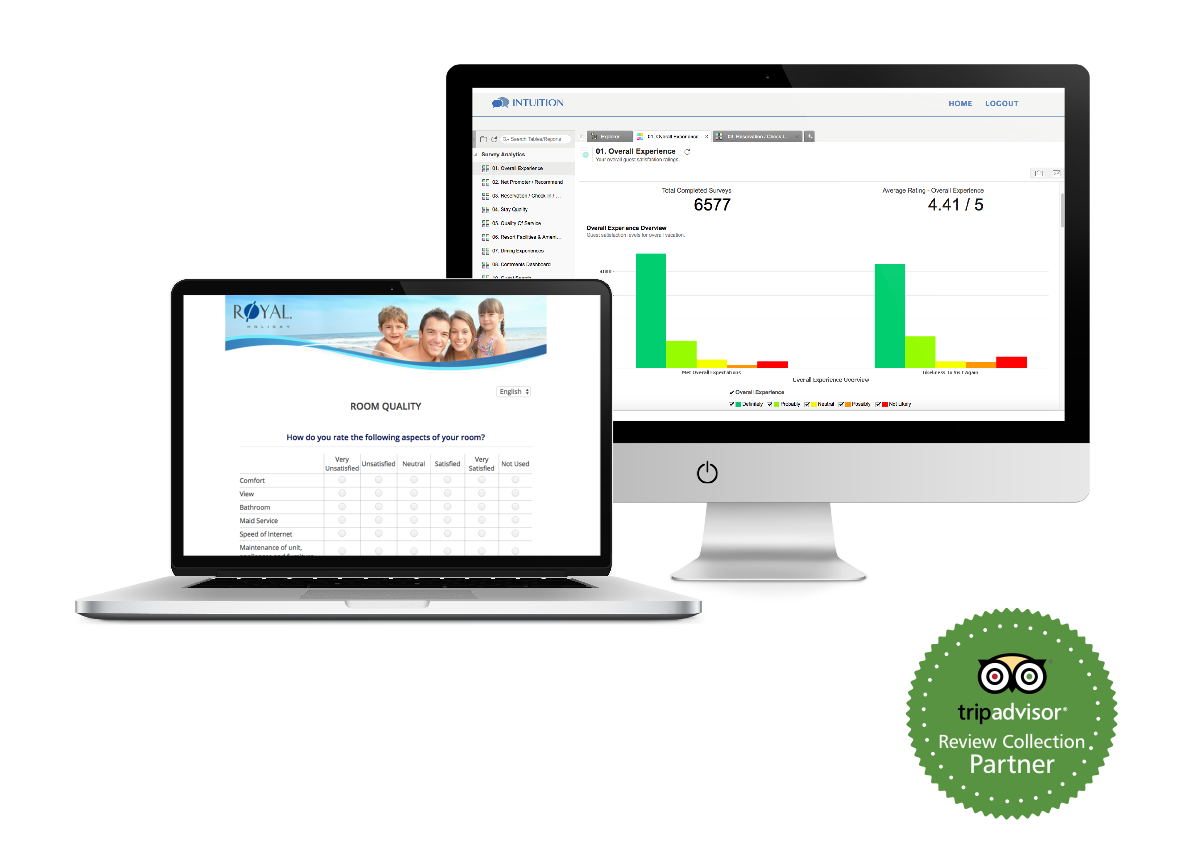 Post Stay Survey & Integrated TripAdvisor Review Collection
Industry standards dictate that typically 20-30% of vacationers will complete a post stay survey when asked.
What that means is that you have an opportunity to gather crucial feedback and benefit from happy guest experiences – all of which can be done on auto-pilot!
As a TripAdvisor Joint Review Collection Partner, our survey system also includes a TripAdvisor Review Widget, allowing guests to post a review on the world's largest travel website from within the survey, significantly increasing the total number of positive reviews you receive.
Your guests will receive a personalized email invitation 24-48 hours after returning home from their vacation at your property.
With this service, you can improve your online reputation through improved ratings and rankings by increasing review volume, while collecting guest feedback through a powerful custom-built survey, designed specifically to generate relevant and actionable data.
Fully branded surveys dynamically show in the correct language and even adjust the questions delivered based on guest type or other parameters. Additional information about customers can also be appended to the personalized survey invitations for superior analytics and reporting.
KEY FEATURES
Custom Created & Maintained By INTUITION Team

Branded Surveys & Invitations

Integrated TripAdvisor Review Collection Widget

Embed Additional Customer Data

Dynamically Generated Questions By Guest Type

Dedicated Account Manager
Find Out More About TripAdvisor Joint Review Collection