Drive Revenue With Powerful Customer Communication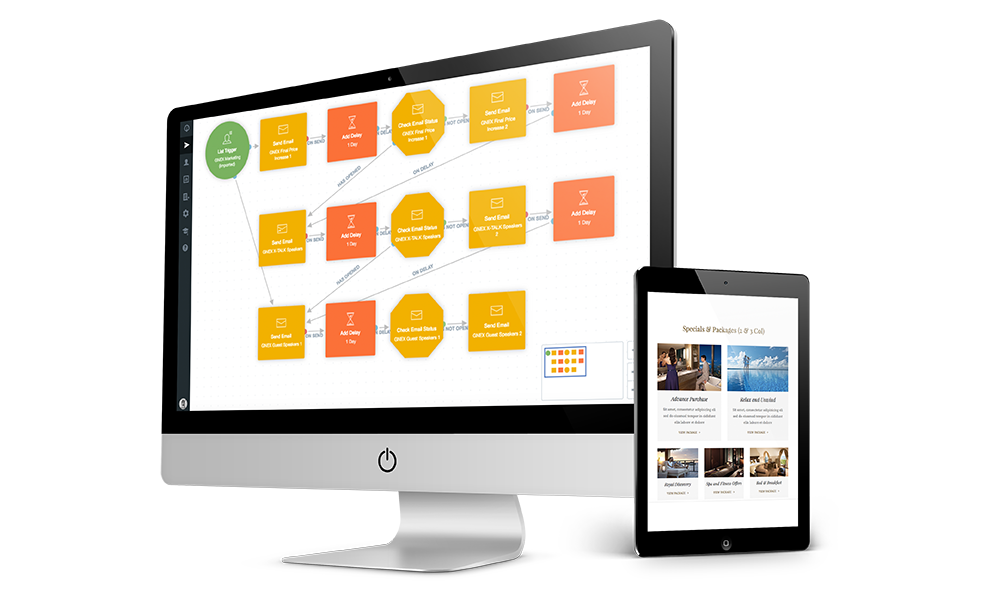 Marketing Automation
INTUITION's powerful Email & SMS marketing automation service gives you the opportunity to increase revenue, boost customer engagement, and gather additional information about guests and members.
The fully managed service, including email campaign design and content creation, list management and distribution, utilizes advanced targeted segmentation of customer data, delivering relevant content to the right people at the right time for improved conversions, no matter what the use case.
From pre-arrival emails to encourage reservation upgrades, sell airport transfers and excursions or pre-book sales presentations, to on-site communications, repeat visit and referral marketing or simply regular newsletters and special offer emails to your entire database / membership base, INTUITION's marketing automation service will give you the competitive edge.
See below for more details…
Pre-Arrival Emails
Start engaging with your guests as soon as a reservation is made. Capitalize on their excitement and find out useful information about their expectations and plans for their vacation with a quick poll. Then around 7 days before they are due to check-in, send them upgrade offers, airport transfer options, pre-arrival discounts on excursions etc to drive additional revenue.
See feedback in near real time, enabling you to react and respond accordingly to encourage completion of transactions or to know what interests a guest has before they arrive in order to improve onsite spend and service.
On-Site SMS / Email Marketing
INTUITION's  marketing automation service can automatically send SMS messages and / or emails to checked in guests to encourage additional on-site spending and deliver useful information.
Based on your daily or weekly schedule, it will send special discounts on SPA treatments on days you know are quiet for the SPA, offer a free bottle of wine with dinner reservations to keep guests on property, or simply remind them of happy hour at the pool or lobby bar! Plus, deliver useful hotel information and details of the most popular activities and excursions.
Increase on-site spending and at the same time see detailed reports on the most effective campaigns and most redeemed offers so you can plan more services, activities and opportunities for your guests.
Repeat Visits & Referrals
INTUITION's marketing automation service will automatically deliver targeted and relevant pre-agreed email campaigns, based on each individuals customer data that has been collected to encourage repeat visits.
From simple strategies such as sending special offers for the resort the customer indicated they would most like to visit next, to sending a SPA weekend offer only to those that purchased SPA treatments on their last vacation, each campaign is pre-built to cover a period of time, but are only delivered based on customer interactions and intent, capturing their attention when they want to give it, rather than only sending them generic weekly or monthly emails.
Active customers will also be asked to refer friends and family, who will automatically receive a special offer that references the referrer, and then they are added to the marketing automation, consistently growing your marketing database with new contacts.
Special Offers & Newsletters
Engage with your entire database / membership base on a regular basis; replace generic offers with targeted offers determined by guest preferences for better conversions.
Using existing customer data and new data collected from INTUITION services, create regular year-around communications that adjust over time to each individual customer's preferences, identifying those that are most likely to transact, and those that have gone cold, automatically cleaning your list(s), while always adding new customers.
Let INTUITION's content team create inspiring and engaging email newsletters that deliver company news, articles, destination guides and more over a series of scheduled communications with your customers that compliment the marketing messages and special offer emails.