Keep Your Whole Company Informed On AutoPilot
INTUITION combines your data sources with a series of integrated Customer Engagement modules. Typically, there is a core group of employees that utilize the full power of the INTUITION Advanced Analytics dashboards with custom filtering that allows them to dive deep into areas for improvement. But how do you get relevant information out to the rest of your workforce?
One of INTUITION's most powerful features is one of its most simple. After centralizing all of your customer data and customer feedback into one consolidated and accepted official source, customized reports can then be distributed to each individual or department automatically on a daily, weekly or monthly basis with total accuracy and no manual labor.
Scheduled Reports are custom-built to your requirements by the INTUITION team so that each recipient receives only the information needed on a regular basis via email in either PDF format for a combination of charts and tables, or in Excel / CSV format for structured table formats.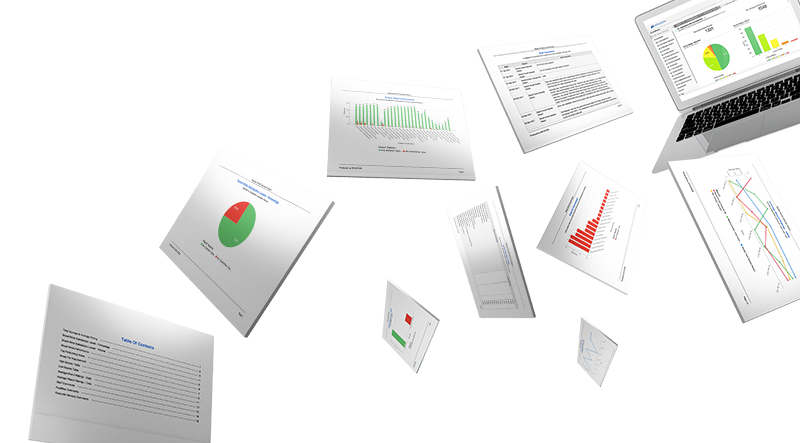 Scheduled Reports
Deliver Decision-Making Data To Those Who Need It
All too often, companies have multiple databases that are silo'd from each other, and so many reports are manually created by pulling some information from one place and combining it with information from another into an Excel document that is very time consuming.
INTUITION not only pulls in your various data sources, but adds new Customer Data from various feedback and data collection modules. It then creates relationships between data sources to create analytics that were not previously available, and provides custom filters so that users can create their own customized reports as required.
Scheduled Reports however, are the ultimate answer to making use of the data beyond the core users of the platform. Custom Built to your requirements by the INTUITION team, each report is then dynamically generated with the latest most relevant data for the recipient and delivered by email in PDF or Excel / CSV format on a daily, weekly or monthly basis.
Once set up, these reports will deliver crucial performance information to each department, encouraging action in areas for improvement and increasing productivity of employees who understand that they are being continuously evaluated. Scheduled Reports can also make departments more efficient, saving them time from manually pulling reports from databases for incoming guests, and cutting through the noise for marketing teams, identifying the campaigns that are working vs those that need adjustment.
Empowering your whole workforce with actionable data that shows customer feedback and staff performance levels goes a long way towards improving customer service and corporate culture.
KEY FEATURES
Custom-Built To Requirements By INTUITION Team

Automates Report Generation

Empower Individuals Or Whole Departments

Any Combination of Charts & Tables in PDF Format

Tables Also Available in Excel or CSV Formats

Dynamically Generated To Deliver Daily, Weekly Or Monthly Data

Improves Efficiency & Productivity Across Your Company

Centralized Data For 100% Accuracy