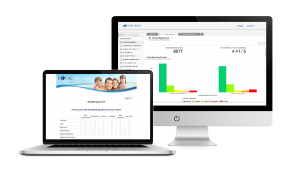 INTUITION offers an integrated suite of services that assist timeshare resorts with online reputation management.
BRAND MONITORING – Using our intelligence platform we track more than 80 million websites for references of your brand, resort and product names, showing you volume of visibility and immediately alerting you to any negative comments that affect your timeshare sales and resort reputation.
ON-SITE FEEDBACK – Various options for collecting feedback from guests during their vacation that enable you to check the satisfaction levels on property each day, and be alerted to any problems early enough to resolve them before they become negative reviews online.
TOUR NO BUY SURVEY – A timeshare sales presentation survey that not only delivers valuable sales center performance statistics, but also provides associated feedback from each guest, which assists with ongoing training, marketing and again alerts you to any upset guests while they are still vacationing with you.
POST STAY SURVEY + TRIPADVISOR REVIEW COLLECTION – Improve your online reputation, ratings and rankings by increasing review volume while collecting guest feedback through a powerful custom-built survey, designed specifically to generate actionable data that is relevant to your timeshare resorts. Analyze online reviews and survey data all in one place.
REVIEW MONITORING – With INTUITION's Online Review Monitoring service you can track all of your timeshare resort reviews across more than 70+ major review sites in one simple dashboard. Read and respond to reviews from TripAdvisor, Hotels.com, Orbitz, Google+, Travelocity, Yelp, Foursquare, Facebook, Booking.com and more…
PRESS RELEASES – The creation of original content by our editorial team, that is syndicated across premium syndication news sites and social media that provides increased visibility and credibility for your brand, promoting your products, services and achievements, while diluting negative online content.