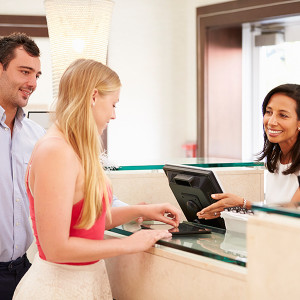 For many hotels, online review management comes into play only when there's a problem. But slow, reactive reputation management can be expensive once the damage is done.
Online reviews are the go-to resource for travelers today. Nearly 90% of global travelers say reviews are influential to them when choosing where to book, the 2014 TripBarometer by TripAdvisor revealed. Almost all (96%) global hoteliers agree reviews are influential in generating reservations.
It's no surprise, then, that a poor online reputation can mean lost sales and revenue for hotels. So why wait till something goes wrong to put a review management program in place? To that end, here are eight tips for reputation management that can protect your hotel's good image online and directly affect its bottom line.
Get in It for the Long Haul
First, recognize that maintaining a sterling online reputation is an ongoing process. It involves continually monitoring online brand mentions and sentiment, and having strong threat detection and protection systems in place.
Provide Great Quality
Deliver an exceptional guest experience with stellar service. Set the scene for a glowing brand image by developing your product and your people. You don't have to be the most glamorous hotel in town. Just deliver on what you promise and more, and make sure your guests perceive they are getting excellent value for their dollar.
Resolve Issues Fast
Most negative reviews are not the result of a bad hotel experience. Customers tend to post online criticisms when they try to resolve an issue while at the hotel and believe their complaints are being ignored.
Guests today expect fast responses. To prevent minor problems from escalating, empower your staff to resolve guest issues quickly before guests conclude their only recourse is to voice their complaints loud and clear on popular review sites. Train employees to fix problems immediately and reward them for putting that training into action.
It often doesn't take much to turn critical reviewers into happy guests. Studies have shown when a hotel resolves an issue, many guests will give it a higher rating on review sites than they otherwise would do. No one expects perfection. But guests want their hotel to be attentive to their needs. Quick, responsive service can fix an immediate problem onsite and also go a long way to head off an ongoing reputation management problem online.
Own Your Profiles
You and your staff have poured countless hours into creating a unique and engaging brand personality. So claim your hotel and brand's profiles on all the major social networks and update them regularly as needed.
Stand Out
Identify the trends that are important to your hotel and the industry. Also read the reviews of your competitors to gain a broader perspective on what's catching on in your market. Be agile and creative in adjusting your offerings to the trends that matter to guests.
There are countless of other ways to stand out on the Web. Encourage guests to show what they're doing at your hotel through videos on YouTube, for example. Videos tend to rank well on search engines.
Request Reviews
Despite the importance of online reviews, many satisfied guests don't leave reviews about their wonderful vacations because they just don't think to do so. That means an occasional negative review can stay visible online for some time to impede future bookings.
The more reviews you have, and the more favorable those reviews are, the more likely you are to attract new guests. It's that simple. So if you want more positive reviews, make it a point to put procedures in place to ask for a review from each and every guest.
Engage with Reviewers
Head off problems and encourage more good reviews by engaging with guests on review sites. Write responses that reinforce your brand image and build trust among current and prospective guests. Acknowledge good reviews with a quick thank you note, and respond quickly to negative ones in a way that's constructive, compassionate and customer-focused. Be sure to respond to all online complaints within 24 hours of receiving them.
Leverage the Feedback
Use the business intelligence gleaned from reviews to strengthen your brand. Negative reviews can serve as useful feedback to improve operations and services and continue to build on the success of your hotel.