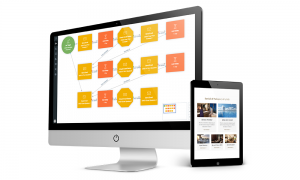 In a time where your customers are being bombarded with dozens of marketing emails a day, the competition is fiercer than ever to stand out from the crowd. Many have turned to social media advertising to cut through the clutter, but the smarter companies deploy an effective multi-channel approach that covers all bases – with the main difference being how they send emails.
There's a misconception that marketing automation is a glorified (and much more expensive) email distribution channel, and that couldn't be further from the truth. When a concise strategy is put into action marketing automation strategies not only generate new leads, and new revenue, but also save countless hours of labor, making them a much more effective option for email communications with customers.
Put simply, once set up, a marketing automation strategy takes existing known data about each customer and automatically determines the most appropriate email to send first from a library of pre-approved emails. Then, based on how the customer interacts with that email determines the series of emails, notifications and reminders they receive; automatically adjusting each time to match the customer's latest interactions, leading them towards your chosen conversion goal.
An example for a repeat discount hotel stay would be:
John Smith, who typically travels with his wife and two children and previously booked local excursions would receive a special offer for accommodation, including 1 free excursion, and the email's hero image will depict a happy family image enjoying a local attraction.
Whereas, Mary Jones, who is 50+ and travels only with her husband, would see the same discount offer for accommodation, but instead of the lively family activity imagery, would see a relaxing couple image similar to their age group and, based on her previous expenditure may see a SPA treatment included in the offer, or room upgrade, or include a special F&B package.
Because of this highly targeted approach, conversion rates and customer loyalty retention are improved, and those that do not yet transact, continue to happily receive your communications rather than unsubscribe because they don't feel the communications match their needs.
There are many uses for Marketing Automation, from pre-arrival emails to promote upgrades and on-site communications to drive incremental spend, to employee communications and automated distribution of tasks based on customer interactions.
According to a study conducted by Sales Fusion in 2016, an astonishing 79-percent of top-performing companies have been utilizing marketing automation for more than 2 years and 53-percent of B2B Fortune 500 Companies use it as well. Marketing automation generates more than 2X the number of leads than businesses only using email blast software.
Marketing automation makes it easier to understand how each individual interacts with your brand and provides deeper analytics that help you to continuously improve your customer experience and create hyper-targeted email campaigns that have a larger impact than generic newsletters and offers that likely only apply to a small percentage of your distribution list.
The data you have is extremely valuable and should be put to its best use, so we urge you to upgrade to a marketing automation strategy now.
INTUITION can assist you with creating a customized marketing automation strategy. Offering a fully managed service, including design and content creation, INTUITION can take care of your Email & SMS communications on autopilot.
For more details visit http://intuitionbrandmarketing.com/automation/