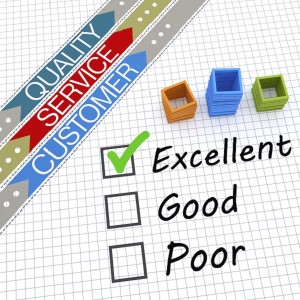 A typical business hears from only 4% of its dissatisfied customers, leaving 96% of dissatisfied customers who don't express complaints, many of which simply won't return for another bad experience. In fact, accordingly to Lee Resources 91% of unhappy customers will not willingly do business with that company again! Sending out a customer satisfaction survey is one of the best ways to get authentic feedback from consumers who wouldn't typically voice their complaints and concerns.
Implementing a successful customer feedback survey is a great way to identify internal issues in order to solve them and provide a better customer experience. Anyone can create a simple survey but just like anything else there is a strategic way of creating a successful survey that results in higher response rates with measurable feedback. Typical response rates for a well created survey range between 20% and 30%. Below are tips on how to enhance the quality of a survey and generate more response rates by following a few simple steps.
Include branding
Including prominent branding in a survey is imperative. Consumers are naturally suspicious of non-branded material so they will surely be leery if there is no recognizable branding on a survey. Be sure to insert the company logo and any other important branding at the very top of the survey where it's most prominent so there is no question in the consumer's mind as to where it's coming from.
Personalize it
Consumers appreciate being addressed by name so it's best to personalize all surveys. In fact, research shows that the personalization of e-mailed survey invites can increase response rates by 7% or more. Additionally, respondents that receive personalized invites are less likely to drop off before completing all survey questions.
Keep it short and concise
If there are too many questions respondents tend to either rush through the questions (and won't attend to each question thoughtfully) or simply give up before completing. A good survey shouldn't be more than 10 questions. There is a direct correlation between longer surveys and lower completion rates and vice versa. Come up with an objective of what needs to be achieved and measured through the survey and focus the questions accordingly. Don't waste respondent's time by asking irrelevant questions or questions that are too closely related.
Ask questions that are easy to answer
Asking longwinded, complicated questions that are difficult to answer is a sure way to lose completion rates. Each question should be clearly written and should have easy answer options. Questions with scale rating options are always a good idea. Try to keep text box answers to a minimum.
Conclude with a Thank You message
Including a Thank You message at the end of the survey is not only a great way to show appreciation for the time and effort consumers spent taking the survey, it also provides companies with the opportunity to send consumers to a special offers landing page. This is an excellent way to invite consumers back to the company's establishment and offer them special VIP treatment for taking the time to fill out the survey.