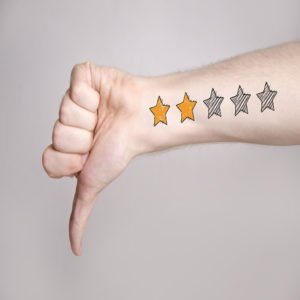 When was the last time you checked your online profile? Social Media and the digital world play a huge part in our everyday lives. We check the weather, check movie reviews, order products and share moments through social media and the internet, almost on a daily basis. In this digital world, a person's thoughts, emotions and opinions can be seen and heard by people all over the world.
Your resort's online reputation is probably one aspect of your overall marketing plan that has been probably overlooked or even forgotten. This way of thinking could end up hurting your resort's overall profits. In the same way consumers will go online to verify reviews on the products they plan on buying and the movies they plan on seeing, they will verify what past guests have said about their own experiences in whatever hotel they plan on booking. But how many travelers actually check hotel reviews.
Digital Word of Mouth: Why Getting Reviews Matters
You'd be surprised as to how many travelers do their research nowadays. Tech savvy travelers use their digital skills to find cheap airfare, vacation packages and yes they shop for hotels in the digital world. This growing trend of travelers that do their online homework before venturing out their doors means that a resort's online reputation often has a direct correlation between the resort's online standing and their overall success against its competitors. Positive, as well as negative, reviews can directly affect where potential travelers ultimately decide to book. In a study conducted on travelers who frequented travel review sites, it was discovered that 53% of them would not book a hotel if they did not see any reviews from previous guests on the property's online profile, which coincided with the 98% of travelers that commented on how the hotel reviews they read on travel sites were accurate representations of their own overall experience at the resort.
A Helping Hand in the Digital World
So now that you know how important it is to have reviews for your property coming in and circulating, how can you start generating these reviews for your resort? That's where Intuition Brand Marketing can help. Created by Perspective Group, the leading marketing firm that provides its brand management services to resorts and hotels around the globe, the Intuition Brand Marketing software offers a highly customizable guest engagement and online reputation management system that your resort can use to get a step up on the competition. This platform provides you with a powerful and intuitive way of increasing the amount of reviews and guest feedback your property receives through active guest surveying and engagement. With the end result focusing on improving your resort's overall online standing and addressing the areas or services that might not be operating as well as you would like. Additionally, the platform gives you an easy to use, built-in TripAdvisor Survey widget, that will allow every guest that stays at your resort an opportunity to leave a review directly with the popular travel site, without the need to register with them.
A Gentle Word Goes a Long Way
Your online reputation isn't limited solely to how many reviews your property or hotel receives on a daily, weekly, monthly or even yearly basis. Often, how you or your staff responds to negative feedback can directly affect your overall reputation with future or potential guests. In the same travel study referenced earlier, it was also found that 78% of travelers that saw a resort's response to a posted review, believed that the resort cared about its guests and their opinions. Additionally, 57% of travelers confirmed that seeing a resort's response to a review generally made them more likely to book with that resort versus a comparable one that did not reply or respond to travelers. The Intuition platform can make responding to reviews, positive and negative alike, a breeze. With an array of searchable dashboards that can easily display the negative, or positive, comments left by past guests in their reviews, you are able to quickly and efficiently respond to those guest and post the response directly on the travel site where the review is. This streamlined method of identifying reviews that need to be addressed and replying to those guests in a timely and respectful manner will ensure that your resort's online reputation remains in a positive light amongst potential guests.
If you're ready to take charge of your resort's Online Reputation or for more information please visit http://intuitionbrandmarketing.com/hotels