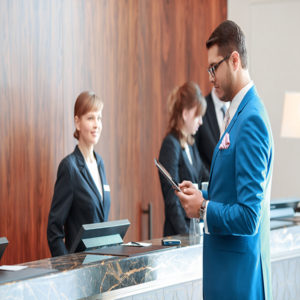 Online Travel Agencies (OTAs) have changed the way resorts receive new guests and reservations. Travelers can browse through hundreds, or even thousands, of potential vacation destinations on these sites and choose the one that best suits their needs and their budget. These websites act in a symbiotic fashion with hotels: They bring in new travelers to hotels and the hotels pay them a commission fee for these new travelers.
While this may seem like a great way for hotels to fill in their available inventory, it does bring up an unforeseen conundrum: How can hotels get these external guests to return without booking through another OTA?
OTA's have the digital advantage when it comes to guest loyalty and return customers. When a guest books through the website, a few key points of data are collected, stored and potentially used to market special offers to the guests in order to keep them coming back to the site. This data, along with the guest's overall satisfaction during their stay, is a crucial piece of the puzzle that hotels need to complete in order to get them to book directly with the property.
Tech-savvy hotels are already looking into creating their own mobile applications in order to keep up with the OTAs, offering discounted rates, special promotions and even last minute room deals to clients that download the app. However, this still doesn't solve the main problem: How to get the data needed from the guest in order to start marketing to them?
This is where a service like Intuition Brand Marketing's ICheck-In can really set your hotel apart from the rest. Traditionally hotels gathered their guests' information during check-in, where a guest would be given a check-in form or asked a few questions in order to get some of the data into the hotel's system. This method, while still plausible, isn't always effective as the data is often incorrect as errors are made through illegible handwriting and data entry.
ICheck-In offers hotels a new and efficient way of collecting this data upon check-in. Upon arrival at the resort's Front Desk, the guest is handed a mobile tablet and they fill out the digital check–in form. Instantly a welcome email will be sent to the guest telling them that if they have any issues / problems during their stay to click on the link provided to let the hotel know.
This link is the integrated On-site feedback form where guests are welcomed to leave any messages regarding their stay while they are still on property. If a guest has a complaint, need or request they can use this link and the message will be automatically sent to the Front Desk Staff in charge of guest satisfaction so that they can attend to the request as quickly as possible.
Online word of mouth can seriously affect your hotel's online reputation, which can lead to a decrease in potential new bookings. Studies have shown that only 1 in 26 unhappy guests actually complain while 91% of guests who would have complained simply never return to that hotel. They will, however, post their complaints online or pass them on to their friends and family, thus damaging your hotel's online reputation.
A problematic customer can become your biggest online advocate if they feel that someone has taken ownership of their problem and helped to get it resolved. This guest will often post a positive review retelling their negative experience and how it was resolved by the attentive staff which not only helps your online reputation but also helps when you are marketing to the guests in order to get them to return at a later date.
A general manager that receives this guest's complaint quickly can offer their apologies, assure the guest they will note their discontent and offer them a goodwill gesture to make up for their bad experience. A bottle of wine from the restaurant, a free dinner or even a day at the spa can appease an unhappy guest.
All these features ultimately end with happy and satisfied guests that will be more than happy to promote their experience at your property. Once they have returned home from their trip, Intuition's system sends them out an email invitation to review their stay. This review invitation will take the guests to a survey where they can leave their review and post it directly on TripAdvisor. The guest doesn't need to be a member of the site as the data that was initially collected is used to automatically post their review on the site without the hassle of signing up directly with them.
To get more information on the ICheck-in system for your property or on how INTUITION can help your resort thrive in the digital market, click here.